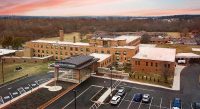 Mercy Health – Urbana Hospital was pleased to celebrate seven decades of caring for our local community while celebrating 70th anniversary on Sunday, Sept. 12, 2021.
The hospital opened its doors in 1951, making it the first hospital to offer services in the Urbana community. Founded by the Sisters of Mercy, the hospital continues to follow in the footsteps of our foundresses by caring for all those in need.
"It has been an honor to serve the community of Urbana for the last 70 years," said Jamie Houseman, president, Mercy Health – Urbana Hospital. "With the recent upgrades and achievements, including being rated as a 5-star CMS hospital, I am eagerly looking forward to continuing to provide the highest quality of care to this community for another 70 years and beyond."
Houseman credits the entire Urbana community for playing a vital role in Mercy Health's ability to upgrade and improve the services and facilities available at the hospital throughout the years. New programs such as Community Paramedicine, senior behavioral health, intense Cardiac Rehab, and sleep studies have been added to the facility. Additionally, a complete renovation of the main entrance, an upgraded sterile surgery department, renovated imaging services, and the Moore consultation room were made possible with support of the amazing members of the Urbana community, Houseman said.
As a result of these many upgrades and program additions, Mercy Health – Urbana Hospital offers high-quality and comprehensive care right here where our communtity lives and works.
The leadership, physicians and entire team at Mercy Health – Urbana Hospital looks forward to continuing to provide the highest quality care to Urbana and the surrounding community for the next 70 years.
Mercy Health – Springfield is part one of the 20 largest health systems in the United States and the fifth-largest Catholic health system in the country. The ministry's quality, compassionate care is provided by more than 60,000 associates serving communities in Florida, Kentucky, Maryland, New York, Ohio, South Carolina and Virginia, as well as throughout Ireland.  Mercy Health – Springfield, which includes Springfield Regional Medical Center and Urbana Hospital, has a mission to extend the compassionate ministry of Jesus by improving the health and well-being of our communities and bring good help to those in need, especially people who are poor, dying and underserved. Mercy Health – Springfield is a comprehensive, regional health care system, known for quality, innovation, compassionate service and a caring culture. With two hospitals and numerous physician offices and care locations, Mercy Health ensures easy access to safe, effective, timely and cost-efficient care for every stage of life through a network of hospitals, nursing homes and retirement communities as well as rehabilitation and outreach services. Consistent with its commitment to serve each patient with dignity, Bon Secours Mercy Health provides nearly $2 million per day in community benefit. To learn more, visit mercy.com.