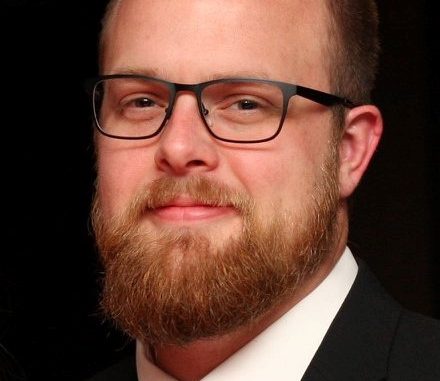 Springfield, OH (January 14, 2022) – Mercy Health –Springfield announced today that Ben Merick has been named Vice President of Operations after serving in the role in an interim capacity for several months.
Ben began his service to the ministry in 2015 as leader of outpatient wound care sites. He later became director of Operations in Specialty Practices, where he made a significant impact in recruiting physicians for key service lines, including cardiology and orthopedics.
In 2021, Ben was promoted to vice president of market service lines, where he played a key role building relationships with both employed and independent physicians in our community. Additionally, he has provided operational oversight of Mercy Health's cancer care services with the goal of growing and expanding oncology services in Greater Springfield.
Most recently, Ben was a member of Mercy Health – Springfield's pandemic task force, leading the COVID-19 patient clinic and offsite testing locations in addition to working in concert with the rest of the executive team on the coordination of employee and community vaccinations.
"Ben has demonstrated an exceptional level of professional growth in a short window of time," said Adam Groshans, president, Mercy Health – Springfield.  "His work has allowed Mercy Health – Springfield to capitalize on strategic opportunities, all while living our mission in his dedication to expanding patient access to care and serving the underserved."
Mercy Health – Springfield's physicians and advanced practice providers have awarded Ben the Living the Promise Outstanding Leadership Award, and last year Ben was honored as one of the Dayton Business Journal's Forty Under 40 for being one of the Dayton region's emerging leaders in business and the community.
Ben is a graduate of the Leadership Clark County Community Leadership Academy and holds a bachelor's degree in Marketing from The Ohio State University and a master's degree in Health Care Administration from Ohio University.
###
 Mercy Health – Springfield is part of Bon Secours Mercy Healthone of the 20 largest health systems in the United States and the fifth-largest Catholic health system in the country. The ministry's quality, compassionate care is provided by more than 60,000 associates serving communities in Florida, Kentucky, Maryland, New York, Ohio, South Carolina and Virginia, as well as throughout Ireland.  Mercy Health – Springfield, which includes Springfield Regional Medical Center and Urbana Hospital, has a mission to extend the compassionate ministry of Jesus by improving the health and well-being of our communities and bring good help to those in need, especially people who are poor, dying and underserved. Mercy Health – Springfield is a comprehensive, regional health care system, known for quality, innovation, compassionate service and a caring culture. With two hospitals and numerous physician offices and care locations, Mercy Health ensures easy access to safe, effective, timely and cost-efficient care for every stage of life through a network of hospitals, nursing homes and retirement communities as well as rehabilitation and outreach services. Consistent with its commitment to serve each patient with dignity, Bon Secours Mercy Health provides nearly $2 million per day in community benefit. To learn more, visit mercy.com.