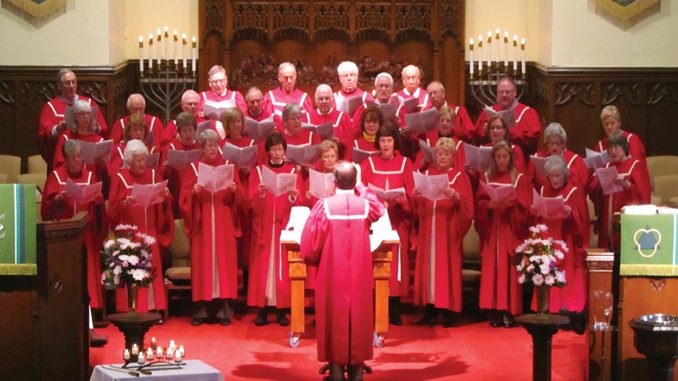 The monthly Sanctuary Series, at High St. United Methodist Church, comes to a rousing close Sunday, May 6 at 3:00 P.M. with music by Dayton's Oakwood Brass, Bells on High, and the Chancel Choir at High Street in a program entitled "O For A Thousand Tongues to Sing."  The performance is offered without admission; however, a free-will offering will be taken to help to continue support for the on-going series.  A reception will be held in The Commons following the concert.
Oakwood Brass, who has appeared on the series before, will perform music by Domenico Gabrielli and J.S. Bach.  Bells on High, in their first appearance on the Series, will perform "Communion Meditation" by Wagner, "Canticle of Praise" by McChesney, and "10,000 Reasons, Bless the Lord," by Redman.
The High Street Chancel Choir, who perform weekly for Traditional Workshop at the church, will sing "Who But the Lord?" and "One Faith, One Hope, One Lord" by Craig Courtney; "Guide Me, O Thou Great Jehovah" and "O for a Thousand Tongues to Sing" arranged by David Schwoebel; "Mary, Don't You Weep" and "The Day of Resurrection" arranged by Mary McDonald' "The Solid Rock" arranged by Brad Nix; and "The Mighty Power of God" by Mark Hayes.
A special featured on the concert with be a piano and organ duet of "A Mighty Fortress," arranged by Joel Raney and performed by Kent Brooks, J. Chris Moore, Oakwood Brass, High St. Chancel Choir, and Bells on High.