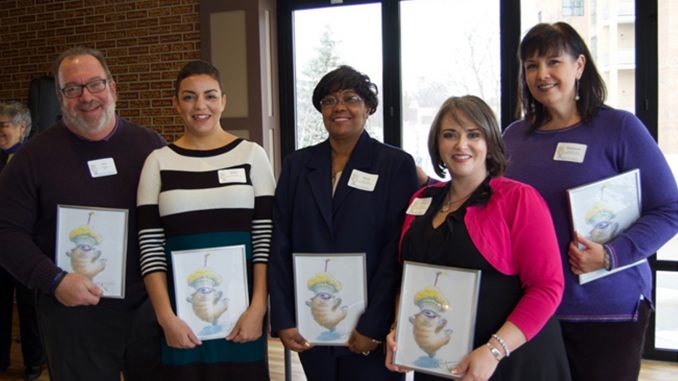 AFP International announced the official approval of the formation of the Greater Springfield AFP Chapter in November 2017. AFP's mission is to empower individuals and organizations to practice ethical fundraising through professional education, networking, research and advocacy.
GSAFP's National Philanthropy Day on November 28, 2018 honored the GSAFP Board who helped establish the ninth AFP Chapter in Ohio. The board members pictured and honored were: Dawn Boyer, GSAFP Vice President, Yellow Springs Schools, Advancement Director; Ericka Harney, CAGS, CAE, CFRE, GPC, CVA, GSAFP at-large board member, Ericka Harney Consulting: Karen Hunt, GSAFP at-large board member, Clark State Community College Foundation, Major Gifts Assistant Director; Stephanie Clark, United Senior Services, Director of Development; and Paul Weber, GSAFP at-large board member, Springfield YMCA, CEO.
For more information, visit our FaceBook at https://www.facebook.com/GreaterSpringfieldAFP/. and/or contact Linda GattenButler, GSAFP Board President, at 937-408-6295 or GreaterSpringfieldAFP@gmail.com.