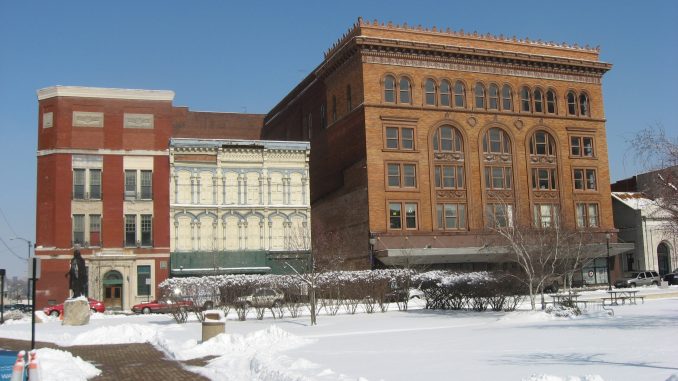 SPRINGFIELD, OH (Jan. 28, 2018) – With wind chill temperatures expected to reach minus 25 degrees Fahrenheit or lower later this week, the Clark County Emergency Management Agency, the Clark County Combined Health District and the City of Springfield want to remind residents to be prepared for the cold weather.
"It's never too early to start preparing," said Clark County Emergency Management Agency Director Lisa D'Allesandris. "We don't want our residents to get caught unprepared for the extreme cold expected later this week."
Dangerously cold temperatures are expected to reach Clark County and the rest of the area late Tuesday through Thursday morning, according to the National Weather Service in Wilmington. Residents going outdoors during extreme cold should make sure to dress in layers and cover exposed skin to reduce risk of frostbite or hypothermia.
Frostbite can happen in minutes, especially on the extremities such as fingers, toes, nose and ears but can affect any area of exposed skin. If frostbite is suspected, immediately move inside to a heated location and begin warming the affected areas using warm water or body heat.
The best way to avoid frostbite and hypothermia is to plan for extreme cold before it arrives. The Federal Emergency Management Agency recommends the following tips to be ready for cold weather:
Check the forecast:Make checking the forecast part of your regular routine so you'll know when to expect cold weather.
Adjust your schedule: If possible, adjust your schedule to avoid being outside during the coldest part of the day, typically the early morning. Try to find a warm spot for your children while waiting for the school bus outside.
Protect your pets, livestock and other property: If you have pets or farm animals, make sure they have plenty of food and water, and are not overly exposed to extreme cold. Take precautions to ensure your water pipes do not freeze. Know the temperature thresholds of your plants and crops.
Fill up the tank: Make sure your vehicle has at least a half a tank of gas during extreme cold situations so that you can stay warm if you become stranded.
Dress for the outdoors: Be prepared to be outside, even if you don't think you'll be out much.
Charge your cellphone: Make sure your cellphone has a full charge in case you get stuck out in the cold or lose electricity.
Prepare a Winter Car Survival Kit:A survival kit should include jumper cables, flashlights, first aid kit, food, water, a basic toolkit, radio, shovel, clothes, blankets or sleeping bags and a cell phone charger.
Local officials are directing those in need of shelter to the Interfaith Hospitality Network, 501 W. High St., which serves as a warming center during cold weather. The facility can be reached at 937-325-8154.
According to the National Coalition for the Homeless, individuals who suffer from substance use disorders and mental illness are at increased risk for hypothermia and cold-weather-related conditions. The community works to ensure individuals suffering from homelessness know where to turn during a weather emergency. For more information about resources, call the 2-1-1 helpline or the Mental Health and Recovery Board of Clark, Greene and Madison Counties at 937-322-0648.
For more extreme cold safety tips, log on to https://www.weather.gov/safety/cold.