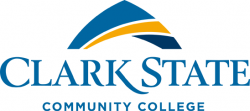 January 5, 2017(Springfield, OH) – Clark State Community College alumnus Jenna Schmid will return to Clark State later this January, not as a student, but as an adjunct professor of Convergence and Security.
Schmid is from Fairborn, Ohio, and graduated from Clark State in May of 2016 with a dual degree in Computer Networking and CyberSecurity. She was awarded the first Nancy Blondin Scholarship.
"It was really exciting," said Schmid. "It was my first scholarship, but not my last. It helped pave the way so I could finish school on time and not worry too much about finances. I also learned where the scholarship came from and that meant a lot."
The Nancy Blondin Scholarship is named in honor of the late Nancy Blondin, mother of Clark State President Dr. Jo Alice Blondin. The scholarship was established by Dr. Jo Alice Blondin through the Clark State Foundation to fund a scholarship for students at Clark State.
"Jenna is a true Clark State success story," said Dr. Jo Alice Blondin. "She is so special and talented; Jenna was just promoted by Speedway and is supervising 42 individuals, and she will now teach part-time for Clark State in Networking. She was awarded the scholarship that bears my mother's name, and I can assure you that Nancy Blondin would be so proud of Jenna."
In addition to teaching at Clark State and continuing her education at Wright State, Schmid is a team lead at Speedway LLCwhere she provides support for multiple applications and platforms at stores and remote office locations. Schmid is responsible for identifying and correcting potential issues before the store is aware of the problem.
Schmid is studying Organizational Leadership at Wright State University and expects to graduate in the spring of 2019. She plans to continue her career with Speedway LLC.
About Clark State Community College
Founded in 1962, Clark State Community College has campuses in Springfield, Beavercreek and Bellefontaine, Ohio.Clark State offersthe latest degree and certificate options in more than 125 professional fields. The total economic impact of Clark State on Champaign, Clark, Greene and Logan Counties reached approximately $161 million in 2016. Registration is open year-round, and financial aid is available for those who qualify. The next academic semester begins January 16, 2018.The Career You Want. The Degree You Need.