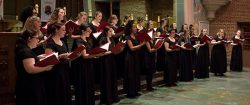 The Wittenberg Singers and Chamber Singers will present a concert at High Street United Methodist Church in Springfield, OH, on Sunday, February 17, at 3:00 pm.  A free-will offering will be taken to support the series and a reception will follow the concert at the church in The Commons.  All are invited to attend.
The program will feature both secular and sacred music. One of the sets of music will be devoted to texts about nature. "For the Beauty of the Earth", by John Rutter, is the familiar piece from the set, but other music from Jake Runestad and Gwyneth Walker will offer beautiful poetry mixed with unique vocal and instrumental sounds. A set of nocturnes and sacred music will round out the program for the Wittenberg Singers. The Chamber Singers will sing a few pieces from their upcoming tour.
The Wittenberg Singers is a treble choir that remains active on campus performing at services and several concerts each semester.The Wittenberg Singers are comprised of students from a wide variety of academic programs. In rehearsals and performances, singers are charged to lead personal, professional, and civic lives of creativity, service, compassion, and integrity in the pursuit of musical excellence. The Chamber Singers are a selective group of nine singers that are chosen from both the Wittenberg Choir, and the Wittenberg Singers. They will be touring around the Midwest with the Wittenberg Choir during the first week in March.
Erik Zinter is the Director of Choral Activities and Assistant Professor of Music at Wittenberg University. He earned a Bachelor's degree in Music Education from Concordia College in Moorhead, MN, a Master's degree in choral conducting and literature from the University of Illinois at Urbana-Champaign, and a Doctorate of Musical Arts in choral conducting from North Dakota State University in Fargo, ND. As a member of the faculty at Wittenberg, his responsibilities include teaching music education courses, aural skills, choral conducting, student teaching supervision, and directing three Wittenberg choral ensembles. Dr. Zinter has more than fifteen years of experience teaching choral music at the high school, college, and community level. Choirs under his direction have participated in numerous state, regional, and national events. Zinter remains active as a singer, clinician, and guest conductor.