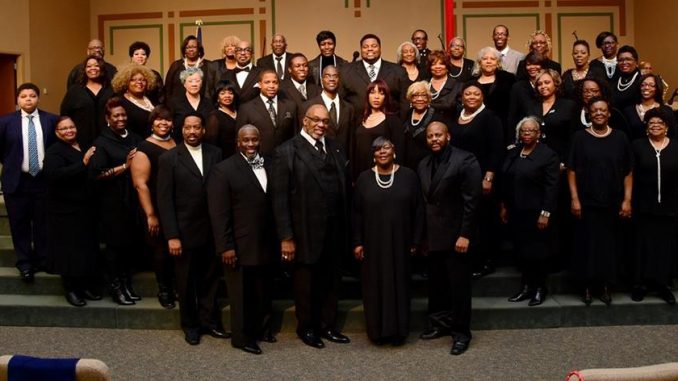 Springfield will welcome back relatively new friends as The Dayton Chapter of the Gospel Music Workshop of America (GMWA) will perform Sunday, January 27, 2019 at 3:00 P.M. at High St. United Methodist Church in downtown Springfield for the monthly Sanctuary Series.  The event is presented without admission charge; however, a freewill offering will be collected to help support the series.  A reception will follow the concert in The Commons at the church, located at 230 E. High Street.  All are welcome!
The late Rev. James Cleveland founded the national GMWA organization fifty years ago as a symposium for amateur gospel music enthusiasts and professional gospel musicians to meet and hone their craft. Because Cleveland himself was a disciple of the father of African-American gospel music, the late Professor Thomas A. Dorsey, he saw the importance in equipping musicians with quality instruction in vocal technique, music theory, applied lessons and music business to strengthen ministries in churches nationwide.  Today, those classes have expanded fifty-fold and many carry college-credit. Also, GMWA is represented by multiple chapters in all fifty states; and delegations in Europe, Asia and Africa, making it the largest gospel music aggregation in the world.
GMWA-Dayton is forty-six years old and has established itself as a model chapter in the national organization.  The choir has shared the stage with gospel music royalty, including a recent concert with The Springfield Symphony Orchestra and Grammy-winner, Richard Smallwood.  GMWA-Dayton has also performed for the Springfield Summer Arts Festival.  Led by Elder Kevan B. Beamon and Kent R. Brooks, the choir will inspire with spirituals that set the early age of gospel music, anthems, congregational style singing from the golden ageof gospel, traditional choir music and what is now considered the urban contemporary choir sound.