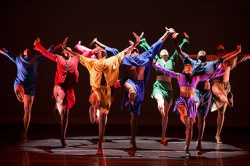 Dayton Contemporary Dance Company brings back the long-awaited return of In the Spirit of… Abundant Blessings.
Start the holiday season off right, catch In the Spirit of… Abundant Blessings Saturday, December 7 at 7:30 p.m. or Sunday, December 8 at 4:00pm at Victoria Theatre, located at 138 N. Main St. in Dayton. Tickets start at $15.50.  Featuring dance, live music by Judah Band, Music Director Deron Bell with a mass community choir, and nationally renowned gospel singer – the legendary Shirley Murdock. Additional talent includes The Jeremy Winston Chorale and the Frederick Douglass Elementary Children's Choir.
DCDC's presentation of In the Spirit of… gathers together the best singers from community churches, live musicians, and the company dancers in celebration of the African-American church. In their deeply expressive praise, they transport audiences to a higher plane of joy and belonging. It's a holiday offering the entire family is sure to enjoy! This tenth production of the series concludes DCDC's 50th anniversary celebration with appropriate flair, energy, and spirit.
DCDC will also be paying tribute to Sheri "Sparkle" Williams' 46th year with the company, as is DCDC's and one of the nation's most recognized contemporary dance artists.
"This is a wonderful culminating event for our 50th Anniversary. In the Spirit of ..  is one of my favorite offerings because it brings the community together.  It is a season for giving and sharing. Stepping into our 51st season is no small feat; if not for our dream of our founder, Jeraldyne Blunden, we would not have this wonderful legacy that lives on throughout Dayton, the nation, and the globe. I'm looking forward to celebrating with you the gifts of our abundant blessings." – Debbie Blunden-Diggs, DCDC Chief Artistic Administrator and Producing Director.
Tickets for In the Spirit of… Abundant Blessings are available at ticketcenterstage.com or by calling 937-228-3630. Group Tickets available for groups of 10+.  For group tickets contact Lyndsey@dcdc.org. Student, Veteran & Senior discounts are also available.
For the latest opportunities to celebrate with us, visit dcdc.org, and connect with us on social
media: Facebook/Instagram: @daytoncontemporarydancecompany & Twitter: @DCDCLive
 About Dayton Contemporary Dance Company:
Dayton Contemporary Dance Company was founded in 1968 to create performance opportunities for dancers of color.
50 years later, DCDC remains rooted in the African American experience, committed to the development of
diverse movement artists on the global stage. Our first and second companies perform more than 60 times every
year and reach more than 25K youth throughout the Miami Valley through our arts-integrated education programs.
DCDC also tours nationally and internationally, serving as cultural ambassadors for the greater Dayton community.