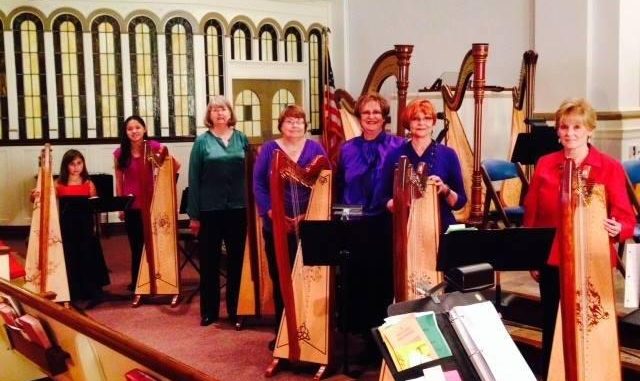 Dayton's Celtic Harp Ensemble will help ring in St. Patrick's Day with a 3:00 P.M. concert at High St. United Methodist Church, 230 E. High St., Springfield.  The concert is part of the monthly Sanctuary Series that features area musicians.  An offering will be collected in support of the series and a reception will follow the concert in The Commons.
Dayton Area Harp Ensemble (Celtic) has been playing for 39 years throughout the Greater Miami Valley.  Their special concert for St. Patrick's Day will feature a familiar variety of Irish tunes on Celtic harps, flute, violin, cello and percussion.  Examples include "Danny Boy," "When Irish Eyes Are Smiling," and "Cockles and Mussels" and others for which the audience will be invited to sing along.  According to Bobbie Strobhar, coordinator for the group, the hour-long program is designed to appeal to all ages.
While its earliest origins are lost, the Irish (Celtic or Gaelic) harp has a certain history dating back at least 1000 years. Brian Boru, the last High King of Ireland (d 1014), is said to have been an accomplished player, but while he is attributed with all manner of skills for which there is no evidence, surviving 12-century annals refer to the Celtic harp being the only music played during the Crusades.
At this time, the Gaelic harp was revered in Celtic culture (and all over Europe). It was common for Scottish and Irish kings and chieftains to have their own resident harper who, in turn, enjoyed high status and special privileges. The musician's main duties were to accompany poetry recitations or the singing of psalms. While they may have composed their own music, they did not write them down.