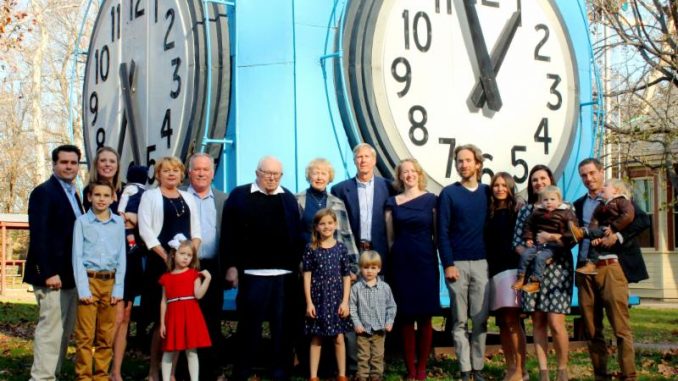 As Carillon Historical Park continues to invest in the improvement and growth of the museum's attractions, the Brethren Foundation is stepping forward to help champion one of the dreams on Carillon Park's wish list — to once again lift the historic Callahan Clock into the air and return this well-known landmark to Dayton's skyline.
Soon to be known as Brethen Tower, the new structure will serve as a major anchor on the museum's 65-acre campus. Plans call for Brethen Tower to elevate the restored architectural timepiece over 100-feet into the air at Carillon Park's west end, making the illuminated clock face visible once again from Interstate 75.
Additionally, Brethen Tower will be interactive and interpretive, as guests will be encouraged to climb the tower's stairs to a viewing platform high above Carillon Park, encountering educational panels describing the history of the clock and the surrounding landscape and transportation corridors. "The people of Dayton have enjoyed looking up at that clock for a century," said Foundation Trustee David Brethen. "Having the opportunity to get it back up in the air where people can see it again, while at the same time helping Carillon Park, a place that we love … well, we are thrilled to help make this happen."
Outlined in conceptual renderings unveiled during Dayton History's 2015 10-year anniversary, Museum officials hope Brethen Tower will also serve as the central feature in the first phase of a future Carillon Park Railway loading station. Dayton History President & CEO Brady Kress shared: "As a private non-profit museum, everything we do here is donor driven. The Brethen Foundation stepped forward to first help build our Carousel of Dayton Innovation, now their philanthropy is propelling this major project dreamed about since adopting the clock in 2006. We are so thankful and thrilled with the family's generous support."
Roll & Associates, Inc., along with Woolpert, are finalizing the architectural and structural engineering designs, as Dayton History seeks additional funding and construction proposals for the overall project.
With the completion over recent years of the Carillon Brewery, the Tree of Light, and the Build for Tomorrow Theater, Brethen Tower will be one more forward step to fully realize Carillon Park's Master Plan.