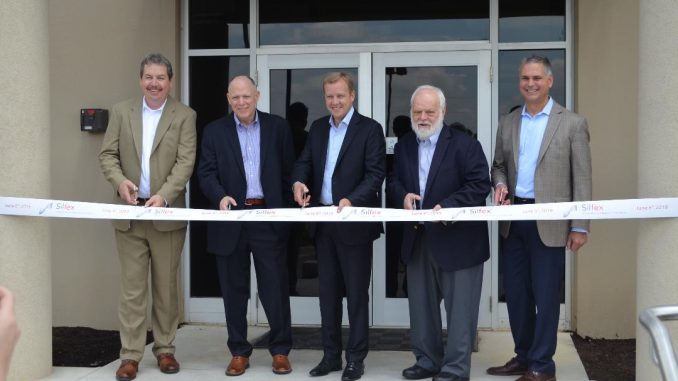 Silfex cuts the ribbon on its new plant in Springfield. The addition of the Springfield plant doubles the size of the Eaton-based company. Pictured (L-R): Kevin Jennings, VP of Global Operations for Lam Research, Kit Armstrong, General Manager for Silfex; Tim Archer, CEO of Lam Research; Mayor Warren Copeland, City of Springfield; and Todd Fosler, Facilities Director for Lam Research.
Silfex celebrated the launch of its Springfield facility today with a ceremonial ribbon cutting and grand opening event. With current operations in Eaton, the Ohio-based company expanded into the 350,000 plus square foot facility at 1000 Titus Road in Springfield. The company's total footprint in Ohio is now more than 500,000 square feet across both sites.
"We are delighted to be a part of the Springfield community and are actively hiring for a variety of fulltime, benefitted positions," said Kit Armstrong, general manager of Silfex. "As our business grows with the increased use of smart device technology, our Springfield plant allows Silfex to better supply the
semiconductor market."
Silfex is the leading provider of precision components used to make and operate semiconductor
manufacturing equipment – which enable the trillion-dollar global electronics industry. The company's
products are integral to the semiconductor equipment, solar, and optical markets. A wholly owned
subsidiary of Lam Research, Silfex is the world's largest custom silicon components growing and
manufacturing facility.
Currently, there are more than 150 employees at the Springfield location, and Silfex is continuing to hire
for various positions including engineers, machinists, technicians, and support staff. For more
information on Silfex and positions available, please visit www.SilfexCareers.com