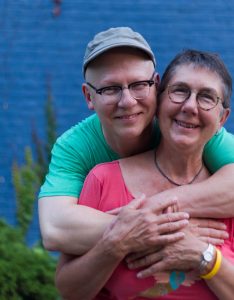 "American Factory," by professor emeritus Julia Reichert and former motion pictures faculty member Steven Bognar, is now streaming on Netflix.
The cameras seem to go everywhere — from the factory floor to executive offices to workers' apartments. For more than three years, the cameras peered and poked into the fragile lives of people whose futures are hanging on the success of a Chinese company rising from the ashes of an American truck plant.
And the resultant documentary film produced by Wright State University filmmakers Julia Reichert and Steven Bognar is now splashing across movie, television and computer screens around the world.
On Aug. 19, hundreds packed into the Victoria Theater in Dayton to see the premiere of "American Factory," which began airing two days later on Netflix. Both Reichert and Bognar appeared on stage in gray Dayton Strong T-shirts and drew cheers from the audience, which included Dayton Mayor Nan Whaley and Moraine Mayor Elaine Allison.
"This is a homegrown movie made by a home-grown team," said Bognar, adding that the movie's credits are thick with the names of people with Wright State connections.
American Factory is a look at Fuyao Glass America, a Chinese company that took over the site in suburban Moraine of General Motors' truck plant, which closed in 2008 and put more than 1,000 workers out of jobs.
The film was initially conceived as a possibly humorous look at the collision of Chinese and American work cultures.
"We didn't realize it would be a story about globalization and about the economy and about unions and the battle for the hearts and minds of workers," said Reichert, Wright State professor emeritus.
Reichert thanked Fuyao Global Chairman Tak Wong Cho.
"He took a chance on Dayton. He took a chance on us," she said, adding that Cho gave the film crew free rein and never asked that they stop filming. "We're very, very grateful for that. That's a very honorable thing."
And Reichert said the film crew tried to honor the access they were given.
"We got amazing access," she said. "But access is one thing; trust is another. We really worked hard to gain trust from people on all levels."
"Our responsibility was to try to include everyone's point of view," added Bognar. "…Even though Fuyao said yes, we still had to have each person we filmed … let us into their lives, to trust us and to put up with our very annoying cameras and microphones for a few years and put up with our endless questions."
"American Factory" received the Best Directing Award for U.S. Documentary at the 2019 Sundance Film Festival. It was chosen by Barack and Michelle Obama as the first release by their new company, Higher Ground Productions.
The film opens on a somber note, with the GM plant closing and the tears and hugs of workers who lost their jobs. It segues into the hopeful, expectant look of job seekers when Fuyao details its plans at a community meeting to launch a glassmaking operation at the site.
But "American Factory" doesn't sugar-coat Fuyao's foray into Dayton. The film also touches on plant safety issues, financial losses and workers' efforts to unionize.
Videography of the factory floor sparkles. It captures robots fist-gripping plates of glass, the drip of black goo that seals the seams, showers of welding sparks and the angry red-orange of the furnace.
The American workers express the financial trauma of losing their GM jobs and trying to survive on new, lower incomes. They talk of losing their cars and homes. One worker is forced to move in with her sister, sleeping in a tiny basement bedroom.
The film also explores the lives of the Chinese workers, many of whom left their spouses and children back in China to try to make a living at Fuyao in Dayton. The cameras are with them when they discover fishing in the Great Miami River and experience the horse farm of an American co-worker.
The moviemakers also spent two weeks in China, filming a delegation of American workers visiting a Fuyao factory and headquarters. The U.S. workers are visibly impressed by the Chinese workers' speed and efficiency as well as their devotion to Fuyao, which creates a military-like culture.
The film ends with sobering talk and visuals of worker-replacing robots, globalization and growing overseas competition.
Joe Deer, professor and chair of the Wright State Department of Theatre, Dance and Motion Pictures, was among those attending the premiere.
"I thought it was fantastic," he said. "Julia and Steve have this remarkable ability … to create a kind of drama out of people's real lives that illuminates big social struggles in ways that seem so personal. And that's very rare."
Bognar, former Wright State professor and an alumnus, gave special thanks at the premiere to the Department of Theatre, Dance and Motion Pictures, saying it has spawned "many talented young filmmakers."
For 28 years, Reichert was a professor of film production at Wright State. She has mentored filmmakers from around the country and is co-founder of Indie Caucus, the action group working to keep the documentary form alive and well on PBS.
Reichert is a three-time Academy Award nominee, for "Union Maids" (1977), "Seeing Red" (1984) and "The Last Truck: Closing of a GM Plant" (2010). Reichert's film "A Lion in the House," which she produced with Bognar, was a four-hour, two-part primetime PBS special and won the Primetime Emmy for Exceptional Merit in Nonfiction Filmmaking as well as the Henry Hampton Award for Excellence in Film and Digital Media.
Deer said the success of "American Factory" speaks highly of Wright State's Motion Pictures Program and how interconnected the university is with the region.
"We are so much a part of Dayton. Dayton is so much a part of us as a campus," he said. "I think this film is a perfect expression of that."